Lenovo Tab M9 Review: For those who want to do tasks like watching videos, playing games, reading ebooks, and doing work, Android tablets remain the best choice. Tablets are an appealing option due to their additional benefits, such as larger screen real estate, longer battery life, etc., even though Android smartphones allow you to do the same things.
If you're in the market for an Android tablet, you probably won't know where to start because there are so many options available, each catering to a different audience and coming in a variety of screen sizes.
We recently had the opportunity to test out the Lenovo Tab M9, a low-cost Android tablet. We're here today to help you decide if the Lenovo Tab M9 is the right device for you by providing a succinct but thorough review.
What's in the Box?
Of course a Lenovo Tab M9 (I got the 4GB+64GB variant)
TPU Back Cover with Stand
SIM Tray Pin
USB Type-C Charging Cable
10W Charging Adapter
Documentation
Lenovo Tab M9 Specification
Design and Build
With its aluminum chassis and conventional rectangular design, the Lenovo Tab M9 boasts a premium in-hand feel and robust build quality.
Although the bezels are thicker than we would prefer, the bezel ratio is the same across all borders. The tablet is very comfortable to hold and carry around because it is only 344 grams in weight and 7.99 mm thick.
The tablet has a 2MP selfie camera and a 9-inch display on the front side. The device's rear has a single, 8MP camera unit without a flash.
The tablet's bottom is equipped with a USB Type-C charging port, speaker holes, a microphone, and a 3.5mm headphone jack. If you choose the LTE version, you will find a SIM/microSD card slot on the left side of the device in addition to the volume control and power ON/OFF buttons on the right.
Additionally, a TPU back cover with an integrated stand is included with the tablet. It's a comfortable and pleasurable experience to watch content in a horizontal orientation thanks to the superb quality and exceptional functionality of the back cover and stand.
Frost Blue and Silver are the two color options for the Tab M9. For both color options, the back has a dual-tone finish that creates a visually pleasing overall appearance.
Display
The front-facing 9-inch display is an IPS LCD unit with a 5:3 aspect ratio, 60Hz refresh rate, and 720p HD (1340 x 800 pixel) resolution.
The Lenovo Tab M9's larger display is one of its advantages since it makes using the tablet for tasks and consuming content much more comfortable and easy.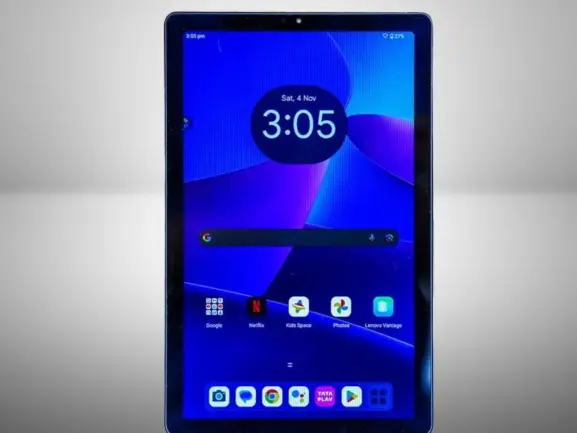 Unfortunately, the IPS LCD panel with 720p HD resolution is only passably good and has unsatisfactory viewing angles. Furthermore, because of the reduced resolution, you can see the screen pixels without really looking for them.
The display has good color quality. To accommodate individual preferences, it provides the option to select from natural, enhanced, or adaptive color profiles.
Additionally, the tablet is Widevine L1 certified, enabling high-definition streaming on well-known websites like YouTube and Netflix.
Performance and Software
The Helio G80 octa-core processor and up to 4GB of RAM power the Tab M9. Even with a chipset that is four years old, it can still perform all of the daily functions you would expect from a low-cost Android tablet, such as web browsing, note-taking, and multimedia consumption.
Even with reduced graphics settings, you can effortlessly play casual games and games like Asphalt 8, PlayerUnknown's Battlegrounds, and so on.
It can run apps just fine, but if you're more interested in multitasking between them, you'll find that the experience is slow because switching between apps and retrieving app data from the background takes a long time.
AnTuTu reported a score of 267,777 after I ran benchmark tests on the device, and Geekbench 6 reported a single-core score of 411 and a multi-core score of 1,429. In addition, the device's performance dropped by 17% from its peak during a 15-minute CPU throttling test with 50 threads.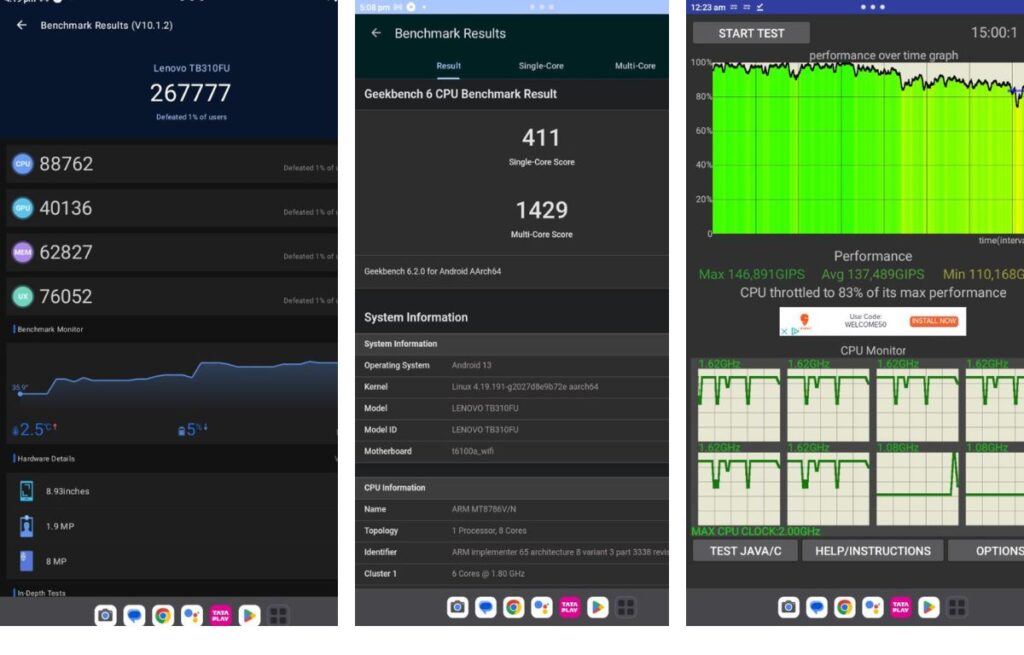 Talking about the software experience, you get Android 12 out of the box with an upgrade available to Android 13. Lenovo has also promised 3 years of security updates for the Tab M9.
The UI experience is also very similar to stock Android, with not much bloatware or unnecessary OEM apps pre-installed.
On the features front, it is important to talk about the face-unlock feature. The face-unlock feature on the Lenovo Tab M9 is something that the brand promotes much, however, in reality, it usually is a hit-or-miss experience.
Camera
The Lenovo Tab M9's cameras aren't really something to talk about, to be honest. Both the 8MP rear-facing camera and the 2MP front-facing camera are mediocre at best.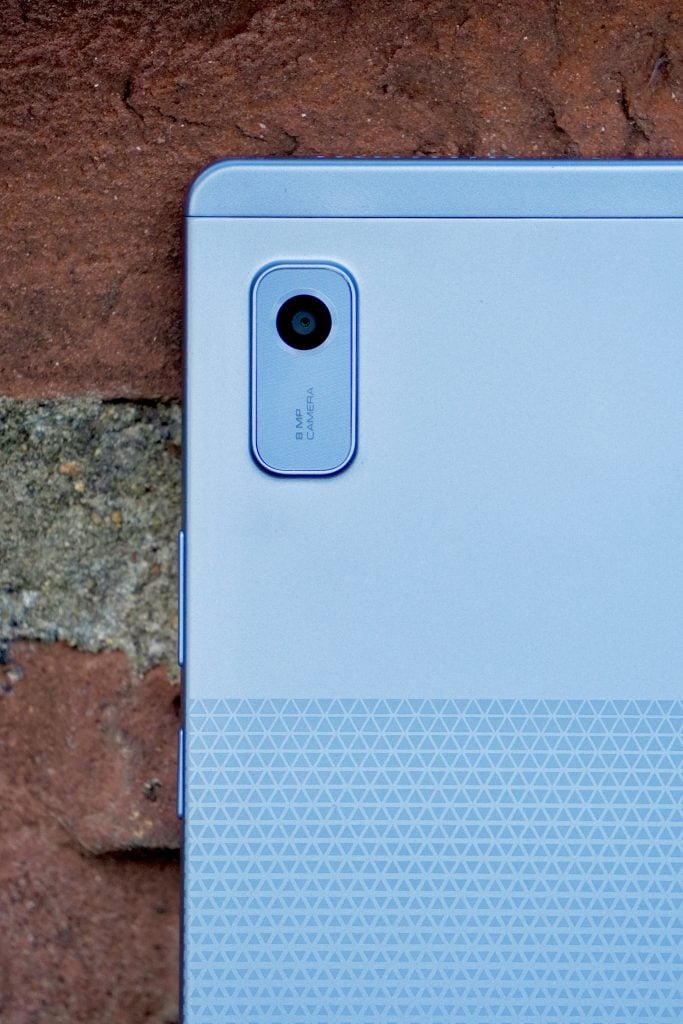 On the other hand, the software HDR option is switchable, and the camera interface is user-friendly. Nevertheless, images are excessively washed out and have an overdone pale tone, even with the HDR setting selected.
Speakers
The Lenovo Tab M9 has two stereo speakers that support Dolby Atmos, providing loud, clear, and high-quality audio. Considering its low price range, the speaker performance is more than enough for consuming a variety of content, even though it could not have strong bass.
Battery Life
With a 5100mAh non-removable Li-Po battery, the Lenovo Tab M9 is expected to have a 13-hour battery backup. Depending on how you use it, the true battery life can range from 10 to 11 hours.
It would take about two hours to fully charge the tablet (up to 10W cable charging is supported). Furthermore, given the tablet's pricing, it should not be shocking that wireless charging is not supported.
Verdict
The Lenovo Tab M9 is ideal for two types of consumers: first, students seeking an inexpensive Android tablet that may assist them with various duties including social media browsing, taking notes, reading e-books, etc.
The other group consists of those who want to watch films on a low-cost device, even if the resolution isn't the best.
You should absolutely go elsewhere if your main needs are to play games, take video calls, take pictures and movies, and other tasks that the Tab M9 can perform with ease.
I would advise looking into more expensive Android tablet options if you have any financial wiggle room because they may provide better overall performance and long-term value for your money.
But if you're only willing to spend about 15,000 rupees, I strongly suggest the Lenovo Tab M9, which has a starting price of 8,699 rupees for the 3GB model. It's a good option in this price range, and you can't really complain about the value it offers.
Disclaimer: The opinions expressed in this Lenovo Tab M9 review are solely mine, reflecting my personal experiences. There has been no editorial input from Lenovo.
Read also: