e-RUPI is a cashless and contactless person- and purpose-specific digital payment solution launched by Prime Minister Narendra Modi via video conference on Monday.
Addressing the event, the Prime Minister said that e-RUPI Vouchers are going to play a big role in making DBT more effective in digital transactions in the country and will give a new dimension to digital governance. This will help everyone in targeted, transparent and leak free delivery. He said that e-RUPI is a symbol of how India is moving ahead by connecting people's lives with technology.
'e-RUPI can be issued by the government or corporate to its employees for targeted use as it allows purchases only from merchant outlets, but does not allow direct cash-out or peer-to-peer transfer, Mihir Gandhi – Partner and Leader – Payment Transformation, PwC India.
What is e-RUPI?
It is a QR code or SMS string-based e-voucher, which is delivered to the mobile of the beneficiaries. Users of this seamless one-time payment mechanism will be able to redeem the voucher without having to access the card, digital payment app or internet banking at the service provider.
It has been developed by National Payments Corporation of India in collaboration with Department of Financial Services, Ministry of Health and National Health Authority.
How to use e-RUPI Voucher
These vouchers are like e-gift cards, which are prepaid in nature. The card code can be shared through SMS or OR code can be shared. These e-vouchers will be individual and purpose-specific. One can even avail these vouchers if one does not have a bank account or a digital payment app or smartphone.
Where will the e-RUPI voucher be used?
These vouchers will be used mostly for health related payments. Corporates can issue these vouchers to their employees.
List of banks that are live with e-RUPI
InfrasoftTech provides an e-RUPI technology stack by helping banks to implement the technology – from integration with existing systems to deployment as per their target beneficiaries.
Presently, it is working with two surviving banks out of 11 as per NPCI. It is soon adding more customer banks with e-RUPI facilities.
The two banks are Punjab National Bank and Bank of Baroda.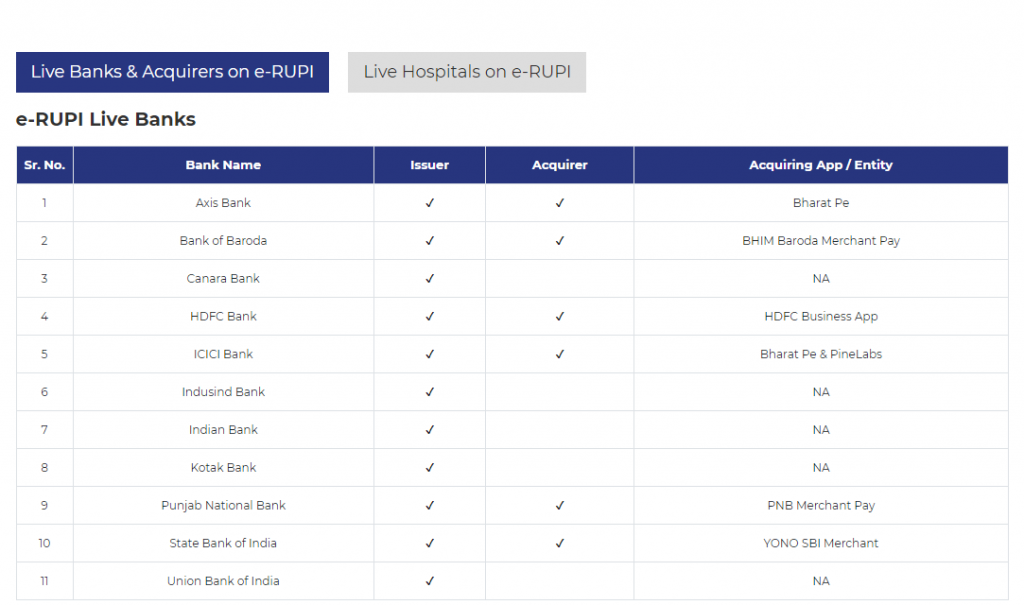 Know- what are the 10 advantages of digital payment
E-rupee is a cashless and contactless digital payment.
Digitally connects service sponsors and beneficiaries.
Ensures leak-proof delivery of various welfare services.
It is a QR code or SMS string-based e-voucher, which is delivered to the mobile of the beneficiaries.
Users of this seamless one-time payment system will be able to redeem vouchers at the service provider without using cards, digital payment apps or internet banking.
Connects the sponsors of e-rupee services with the beneficiaries and service providers in a digital manner without any physical interface.
It also ensures that payment is made to the service provider only after the transaction is completed.
Being pre-paid in nature, it assures the service provider of timely payment without the involvement of any intermediary.
Apart from regular payments, it can also be used for services under schemes like Ayushman Bharat Pradhan Mantri Jan Arogya Yojana, fertilizer subsidy, maternity and child welfare schemes, TB eradication programmes, medicines and diagnostics. etcetera.
These digital vouchers can also be used by the private sector for their employee welfare and corporate social responsibility programs.
How is e-RUPI different from digital currencies?
While the launch of e-RUPI is the first step towards having a digital currency in India, it is not a digital currency in itself, but a social service voucher system, which ensures access to specific benefits to eligible beneficiaries without any discrepancies. Is. Delay.
This is different from cryptocurrencies which let you buy goods and services or trade them for profit. More importantly, it is regulated by the government. Prepaid vouchers to be paid for by the government will be largely used, at least initially, to provide welfare subsidies.
However, with regard to the introduction of digital currency in India, the Reserve Bank of India (RBI) announced in January this year that it was exploring the need for a central bank digital currency in India as a measure to enhance financial inclusion. .
Unlike China, Europe and some other countries, India is not at the forefront of issuing virtual cash, but the rise of cryptocurrencies like Facebook's Diem has encouraged authorities to pursue pilot projects in the wholesale and retail sectors in the near future. has done. .
"While the cryptocurrency is based on the blockchain, e-RUPI is based on the UPI system. It is very similar to the gift vouchers we get online but this time the government is issuing it. It is the government's role in launching the digital currency. May be the first step," Sharma said.
Explaining how these vouchers cannot be converted into cash, he said, "The government is promoting liquidity in the economy. It's saying go out, buy it, spend it. Earlier, the government used to remit funds to the beneficiary's accounts which are not used or most of the time are used for some other purpose.
Malviya said: "The purpose of cryptocurrency and e-rupee is the same – to reach the unbanked population, but the approach is different here, cryptocurrencies are distributed, and a decentralized medium of exchange. On the other hand, e-RUPI is centralized. But it is a digital payment protocol of its kind.
Which nations do they have?
The US, South Korea and many other countries have used similar voucher-based incentives for welfare services.
"Some states in the US have implemented a digital voucher-based system for educational institutions to create a targeted delivery structure. But no country has implemented e-voucher system on a large scale in the past," Malviya said.
He said, "e-RUPI is one of the efforts of the government, and successful deployment of e-RUPI can increase India's GDP by 14 per cent, which looks very promising for the better future of Indian economy."
>> What is UPI? Know the use of UPI, full form, benefits, importance. Complete information about UPI