Audi Q8 is annoyingly good in practice: Simon Lambert argues that the rise of the SUV coupe has been one of motoring's hottest trends, taking a big, heavy car and trying to make it sporty. So why do affluent buyers want these expensive animals?
To find out why luxury car buyers can't get enough of streamlined SUVs, he borrowed an outgoing version of the Audi Q8 – an updated version will be in showrooms soon – and took it on a 2,000-mile test drive.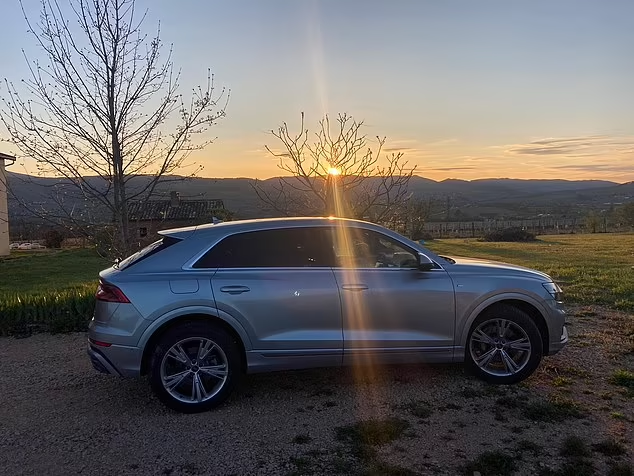 The Audi Q8 is a streamlined version of its big Q7 SUV – an updated version is on its way to showrooms soon, but we put the outgoing version to the test.
What the wealthy want: From posh saloons to SUVs
Back in the day, car buying was easy for the successful high-flier, you bought a big, posh saloon car and if you wanted something fast, you picked up a sports car for fun at the weekend too.
But then the lines started to blur, with car makers realizing there was a healthy market for upselling models if you combined the two elements and made a very fast saloon.
The country that probably led the way was Germany, where bahn-storming, big-engined, four-door BMWs, Mercedes and Audi battled for bragging rights.
The Q8 is more practical than some SUV coupe rivals
First of all, I think you can make a reasonable case that the Audi Q8 isn't as fast as the BMW X6, or the Mercedes GLE (or some of Audi's other coupe SUVs).
With the Q8, Audi has wisely tweaked the shape of the car, opting for wider curves than the full-on coupe attempts made by BMW and Mercedes on its rivals.
The Q8 is a more rounded SUV and quite a handsome car. It is very big and wide, but manages to trick itself into not looking that big when walking on the road, it is only when you look properly that you realize how huge it is.
The gently curving, rounded roofline means you're losing out on a small amount of boot space and not making the same amount of rear headroom as the rival.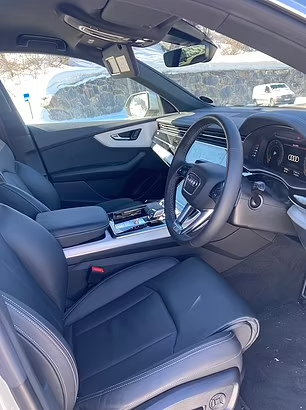 Audi's luxury cockpit is a nice place to spend a long journey.
Audi's luxurious cockpit is a good place to spend a long journey, meanwhile, there's plenty of room in the rear of the Q8 even with the rear seats slid forward and the 40/20/40 seat split is useful for longer items
A double touch screen sits in the middle of the Q8's dashboard, helpfully splitting climate and other controls and maps to make it easier to use on the move. A simple and well laid out digital display behind the big leather steering wheel, puts the information you need in your eye line.
Our car's stylish piano black wraparound dashboard and soft leather seats combined with the clean lines and switchgear to give a real sense of quality. Large central armrest storage and deep doorbins made it a practical space too.
While the sloping roofline eats into the luggage space slightly that is not to the degree of rivals where practicality is more compromised – pack it to the top and it will swallow a huge amount.
The Q8 on the road
The Audi Q8 passes the big and luxurious test with ease – as you'd rightly expect from a £72,000 car – but how does it fare on the road?
The S Line 50 TDI quattro Tiptronic version that I had to review had a 3.0 liter turbocharged diesel engine producing 286 horsepower. This is enough to propel the Q8 from 0 to 62 mph in 6.1 seconds and on to a top speed of 150 mph.
Diesel engines may not be loved these days, but they are arguably a much more sensible choice for a big heavy family SUV in terms of power delivery, fuel efficiency and trying to be a little kinder to the environment.
The diesel engine produces plenty of torque and the Q8 has plenty of punch when you put your foot down, for example, overtaking or towing on a motorway.
Despite all its sporting aspirations, there's no denying the fact that the Q8 is a hefty beast, with a curb weight of less than 2.2 tonnes. This means it won't compete with a true sports car – or even a sports saloon – on turns.
The Audi Q8 we tested came with a 3 liter diesel engine which is better suited to a heavy SUV than its petrol counterpart.
The Cars & motoring verdict
If you've got deep pockets and want to buy a big luxurious expensive SUV, there's a lot of choice out there. So, does the Audi Q8 do enough to stand out from the crowd?
A new version of the Q8 is on its way to showrooms but doesn't look as if it will be radically different. The outgoing version that we tested can still be picked up and there is probably some room for negotiation on its price.
I'd argue it's a better and more practical choice than many of its SUV coupe peers, particularly those with the most aggressively sloping rooflines, such as the BMW X6 and Mercedes GLE.
Other options buyers will consider could be the Porsche Cayenne coupe and Range Rover Sport, which similar to the Q8 ease off on the coupe styling slightly.
Those that opt for the Q8 will get an exceptionally talented car, with loads of space, a fantastic cabin and a feel of luxury to it.
But if they really want to go down the route of space and sportiness, perhaps prospective buyers should consider an Audi S6 estate instead: it's faster, has better fuel economy and as its smaller, lighter and closer to the ground it's better set up for sporty. handling.
Of course, buyers probably won't choose the estate – they want an SUV, but it's at least worth trying to convince people otherwise.
Read also: