Hello friends, if you are a gamer then PUBG Mobile is a great game for you which you can enjoy by downloading it for free from play store.
In this post, I will tell you all about PUBG Mobile in detail and will also tell you the easy way to download it for free.
So let's start this post of today ie….
What is pubg?
Playerunknown's Battlegrounds, or PUBG is a mobile game published by Tencent Games and available for both Android and Apple.
PlayerUnknown's Battlegrounds (PUBG) is an online multiplayer battle royale game published by PUBG Corporation, a subsidiary of South Korean video game company Bluehole. In the game, one hundred players parachute onto an island and search for weapons and equipment to kill others while avoiding killing themselves. The safe zone of the game map decreases in size over time, directing the remaining players into tight areas so that everyone can reach it slowly and the last player or team wins the round.
Players can enter matches in singles, doubles or with a small team of up to four people.
At the completion of each round, players receive in-game currency based on their performance. The currency is used to purchase boxes that contain cosmetic items for character or weapon customization.
PUBG Mobile v0.12.0 with new Darkest Knight zombie mode is set for April 17th
PUBG Mobile has been launched in India, which you can now play by downloading it from Play Store or Apple Store.
What do you need to play PUBG Mobile?
Playerunknown's Battlegrounds Mobile Game is an online game which means you can simply say that you need internet to play it. For this you can use your mobile data or Wi-Fi.
Talking about your Android mobile, it should be Android 5.1 or above and should have at least 2GB RAM. The more it is in your mobile, the better.
I currently play it on my REAL ME and it works great in it.
Basic knowledge of playing pubg mobile
PUBG Mobile is a game in which you do not have anything in the beginning. You are landed on an 8 X 8 Km island with the help of an airplane, which has a total of 100 players.

You have to survive till the end out of these 100 and the person who survives fighting till the end is considered the winner.
When you land on this 8 X 8 Km island via parasuit, you have nothing and you have to collect everything you need from the houses built on this island like weapons, food, bags, clothes etc.

There are three ways to play it. You can play it alone or with two people or with a team of four.
If you play it alone you have to do everything and there is no support from above. But if you play with a team of two or four, other team members can give you weapons, food, etc., and they can even revive you.
Apart from this, if you kill an enemy, you can go to him and collect all his stuff where the green flag is being made.
When you land on this island, this circle is a little bigger, which you can see by clicking on the map in the upper right corner. But as time progresses, this cycle becomes shorter and you have to survive within it. If you stay outside longer than this, you are also dead for being out of the play zone.
The most struggle and fun in PUBG Mobile comes when the circle has become very small and all the other players are in the middle of it. If you manage to survive here too, you are declared winner, winner, chicken dinner.
Is pubg mobile free?
Yes, you can download and play PUBG Mobile for free. The link to download it is given below.
On playing this game, you are rewarded with a coin, which you can use to buy clothes etc.
If you log in daily, cover a certain distance, or live longer, you are rewarded with coins.
How to download pubg mobile?
You can easily download PUBG Mobile from Play Store or Apple Store.
But to make your work easier here I am giving you the direct download link so that you do not have trouble to find it.
Download PUBG Mobile for Android phone
Download PUBG Mobile for Apple phone
Last words about pubg mobile
So in this way you know about PUBG Mobile in great detail. If you have free time and good mobile then this is very good game to play. Along with this, you will also need an internet connection.
[amazon box = "B0756Z43QS"]
Pubg Mobile is a graphic rich game and it runs online, so it consumes more of your mobile battery. But if you start enjoying this game then it will not be a problem at all if you have a power bank.
[amazon bestseller = "powerbank" item = "3″]
Winner, Winner, Chicken Dinner in the End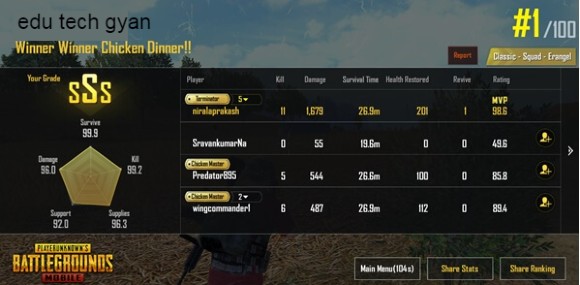 Related Posts to PUBG
>>HOW TO INSTALL MINECRAFT GAME IN MOBILE
>>GTA Vice City Download in Hindi Full Version for PC Windows 7/8/10