Today we will learn about RTGS in this article. What is RTGS? what is RTGS in banking? how to do RTGS in bank? what is the difference between RTGS and neft? How to make RTGS payment? You will get complete information about RTGS in this article.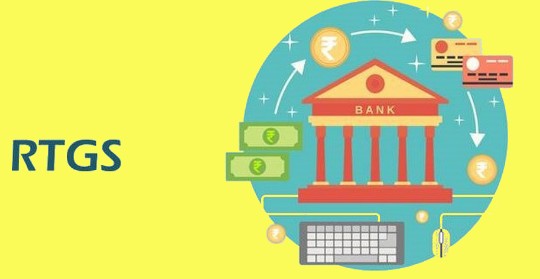 There are many options available to transfer money from one bank account to another. The most popular of these are RTGS, NEFT and IMPS. In this post we will talk about the fastest money transfer service RTGS. RTGS is used to transfer large amounts from one account to another. You can use RTGS from your home by visiting the bank or through online banking.
What is RTGS?
The full name of RTGS is (Real Time Gross Settlement). RTGS is a banking payment system service through which transactions are done in real time. The online transaction done through RTGS reaches your account within 30 minutes. In this, there is no need to wait for the approval of another bank for fund transfer, and funds can be sent to any other banks through RTGS without any waiting period. RTGS Payment System Service is maintained by Reserve Bank of India. This service is considered the fastest and safest for large fund transfers.
>> What is e-RUPI? || How Does it Work? e- RUPI Live Partners
What is RTGS in banking?
RTGS is used to send large amount i.e. amount above 2 lakhs. If for some reason the money does not reach the other's account, then all the money is sent back to your account. Any person who has an account with the bank can avail the benefit of RTGS service, just you have to fill an RTGS fund transfer form from the bank.
The acronym 'RTGS' stands for Real-time Gross Settlement. The Reserve Bank of India (Central Bank of India) maintains this payment network. Real-time gross settlement is a fund transfer mechanism where money is transferred from one bank to another on a 'real time' and 'gross' basis. – Wikipedia
How to do RTGS in bank?
You can also do RTGS by visiting a bank branch or through online banking i.e. NET banking and you can do instant money transfer sitting at home. In online fund transfer, you choose the option of RTGS and add the beneficiary's bank details and after that fill and submit the amount you want to send. For this you should know the details of the beneficiary's bank account like –
bank name
branch address
IFSC code
>> What is UPI? Know the use of UPI, full form, benefits
How to make RTGS payment?
Transferring money through RTGS is very easy. That is, using RTGS is very easy. For this you need to have a bank account. You can have an account with any bank in India. It can be used both online and offline. We can also do RTGS through online net banking and can transfer money through it offline by going to the bank.
To do online RTGS, it is necessary to activate internet banking in your bank account. To activate internet banking, you can contact your bank branch or you can also activate it yourself through online ATM card. After internet banking is activated, you get a username and password, through which you are able to access your account online.
So log in to net banking with your username and password and go to Fund Transfer and select RTGS option. After that enter some of the required information asked. Such as :- Beneficiary Name, Account Number, Branch Name, IFSC Code, etc. After this, transfer the money by submitting it and entering the OTP sent on the registered mobile number.
If you are not able to do online, then you can transfer money offline also through RTGS. For this you have to go to the branch of your bank. RTGS form has to be obtained from the branch. After this, enter all the information asked in the form, your bank details and beneficiary's bank details.
Make sure to re-check the form once again. And if all the information is correct, submit the form to the bank officer or employee. After which the bank will debit the money from your account and credit the money to the beneficiary's account.
what is the difference between RTGS and NEFT?
| NEFT | RTGS |
| --- | --- |
| In this, you can send from 1 rupee to 10 lakh rupees. | In RTGS, money cannot be transferred less than 2 lakhs, in which at least 2 lakhs or more funds are transferred. |
| In this, it takes about 24 hours for the fund transfer i.e. to complete the transaction. | Funds are transferred in half an hour (30 minutes). |
| It works on Hourly Batches. | It works on Real Time System. |
| Funds cannot be transferred more than 10 lakhs in this. | You cannot send money less than 2 lakhs in this. |
| This is a slow method of transferring funds. | This is a fast method of fund transfer. |
| In this transaction charges are less than RTGS. | In this transaction charges are more than NEFT. |
| In this, money can be transferred both online and offline. | RTGS can also transfer money both online and offline. |
FAQ
What Is RTGS settlement timings –
The timing of RTGS is from 9 am to 4:30 pm on bank working days, this work is done only till 12 pm on SATURDAY. There is no settlement on Bank Holidays and Public Holidays. There is also a nominal fee for sending money through RTGS, which you can find out in your bank.
What Is Charges for RTGS –
For the service of RTGS, banks also charge you for its charges. This charge is applicable only on the sender. The recipient of the money does not have to pay any charge.
2 lakh to 5 lakh = Rs.30
Above 5 lakh = Rs 55
(Note – This charge amount is subject to change)
What are some special features of RTGS-
Transfer of money through RTGS happens in real time.
It is generally used to transfer large sums of money.
This method is very fast and safe.
The minimum amount that can be transferred through this is 2 lakhs.
RTGS ka full form –
Real Time Gross Settlement