The name 'Internet' itself suggests its meaning. It stands for International Network of Computers. It is a world wide network of millions of computers. It is the medium for communication, research and exchange of information. The usage of the Internet has seen a tremendous increase in the past few years as it offers various advantages.
History of the Internet
The Internet was initially known as ARPANET (Advanced Research Projects Agency Network). It was implemented by the Department of Defense (DOD) of the United States of America. Later on, it connected different universities and defense to share information on research and development in scientific and military fields. It was a big success
Subsequently, it was made available commercially to the people and has taken the shape of the present – day INTERNET.
Internet Services
The Internet is a global network consisting of millions of computers. The services available on the Internet are extremely large. Some of the basic services of the Internet are – search engine, emailing, online chat, video conference, etc. In this chapter, we will learn about various services that make the Internet so popular.
Information Retrieval
The Internet has made it easier to access and share information, which can be in the form of text, pictures, audio or video. There is a huge amount of information available on the Internet on a wide range of topics such as news, books, products, etc. The search engines on the Internet help you to search and find information on any subject.
Search Engines: Search engines are websites that allow the user to enter keywords related to the required information and search other websites containing the information. Some of the popular search engines are Google, Bing, Yahoo! Search and Lycos.

Email
Email ( electronic mail ) is a process of sending and receiving messages over the Internet You must have an email address in order to access your email . Every email accounts identified by its email address . An email address consists of a username and a domain name separated by ' @ ' symbol . For example
Username : It is the name of a person's account. This can be the actual name of the user or any other name.
Domain name : It is the location of the person's account on the Internet and it ends in a dot and the type of organisation.
Raymond Samuel Tomlinson (Ray Tomlinson) has been referred to as the 'Father of Email". He implemented the first email program on the ARPANET system.
There are many sites on the Internet which provide free email facility. Some of them are- www.gmail.com, www.yahoo.com, www.rediffmail.com, etc.
Email is different from Postal mail. Postal mail can carry articles, gifts, letters, documents which email cannot. Postal mail is sent at the postal address and email is send at the email address.
You can easily create an email account by Gilling a registration form wherein you have to choose your email address and password. After creating an account, you can use the email address and password to access your email account. Jerry Yang and David Filo are the founders of www.yahoo.com. Yahoo is an American computer service company founded on March 2, 1995.
Chat
Chat has become a popular way for people to communicate with others. Real-time textual communication between two users through computers is called chat. Chat is also known as online chat or Internet chat.
Chatting can be used to send instant messages. Chat not only allows you to exchange text message but it also allows you to interact with others through voice and video chat. Some of the instant messengers that let you chat with people in your friend's list are – Google Hangouts, Windows Live Messenger, Yahoo Messenger, Skype IM, etc.
Using these messengers, you can chat with your friends over the Internet, just as you would in your classroom. The difference is that your friends may be located anywhere in the world. These messengers allow you to type a message and get an instant reply from a friend.
Google Hangouts : Google Hangouts is a free service from Google that allows you to talk to family and friends on your computer or mobile device. You can even talk to each other live over video chat and use Hangouts to make phone calls and texts. It's available on its website, as an app for i0S and Android, and as a plug-in for various web browsers.
In addition to being able to make video and audio calls, Google Hangouts is a great tool for messaging and chatting with your friends and family. Its interface allows you to chat both one on one or in groups, send pictures, and even send text messages to mobile phones.
Starting a conversation with someone is easy. All you need is either that person's name or email address.
Step-1: Open Google Hangouts at hangouts.google.com.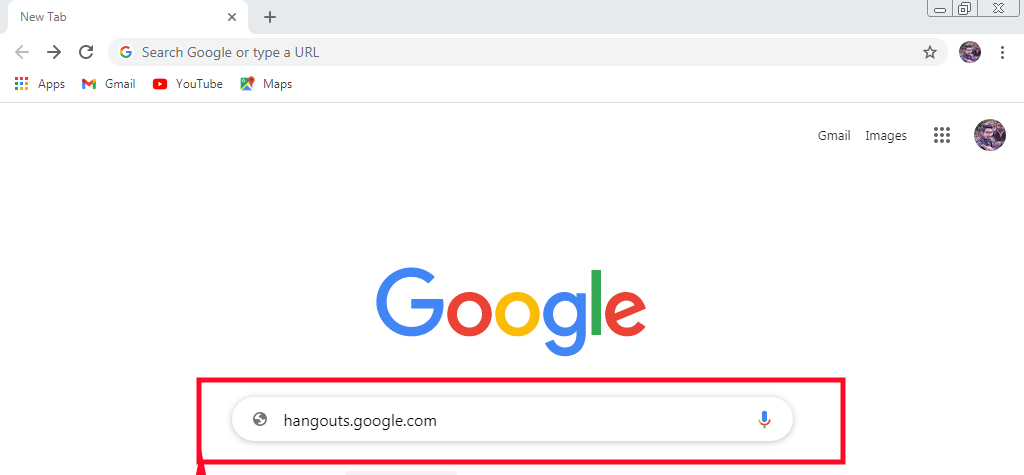 Step-2: Click the search bar at the top of the Hangouts list, where it reads New conversation.
Step-3: Type the name or email address of the person you'd like to talk to. It will search for the name and show a list of results. Once you've found the correct person, click his or her name.
Step-4: A Hangouts window will appear. Type your message, then press Enter to send it.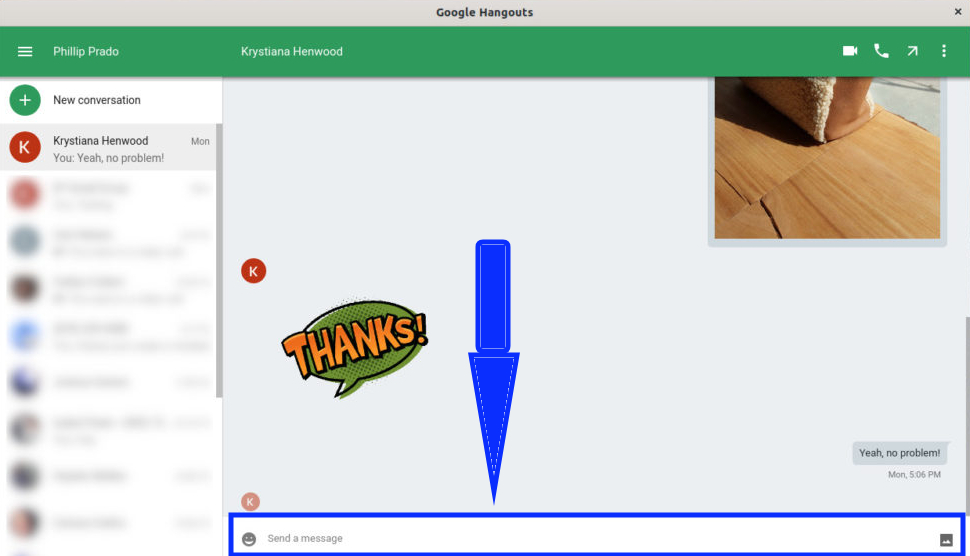 Do's and Don'ts of Chatting
While chatting can be fun and informative, these do's and don'ts are important.
Do's

Don'ts
Use a chat nickname and not your real name.
Do not reveal any personal name.
information in a chat room.
Check the terms, conditions and privacy
statement of the chat site before you
begin chatting.
Do not agree to meet someone
you have talked in a chat room.
Use decent language while talking.
Video Conferencing
You must have seen a news reader on TV talking to a reporter at a far-away place who reports directly to the audience. This is an example of video conferencing.
Video conferencing bas brought the world much closer. Video conferencing allows two or more users to have a live interaction with one another via audio and video transmission. It cam be used for conducting meetings, interviewing job candidates, educational training and health care conferences. There are some sites such as www.videoconference.com that allow people to set up video chat rooms. Skype, Yugma, Adobe Connect, Ekiga etc. are examples of some video conferencing applications.

E-Learning
E-learning means electronic learning. It refers to learning with the use of technology that enables people to learn anytime and anywhere. Learning through the Internet helps in imparting knowledge by overcoming the limitations of time, distance and resources. The Internet acts as a global library for us. E-learning is a broad term. It includes all forms of technology used in learning and teaching. E-learning is less expensive than traditional learning. Many websites offer tutorials on a wide range of topics. Some of them are :
www.w3schools.com,
www.glearnfree.com
www.abcya.com,
www.elearningforkids.or
E-Banking
E-Banking means electronic banking. It is a net banking service that allows the users to monitor, transact and manage the bank accounts online. One can make use of e-banking services for:
viewing bank account details and account balance, and downloading statements.
transferring funds.
requesting for cheque books and demand drafts and stopping cheque payments.
applying for loans.
paying utility bills.
To perform e-banking, follow these steps :
Step-1: Open the website of the bank in which you have a registered online account.
Step-2: Enter username and password.
Step-3: Perform the required transaction.
E-Greetings
You already know that you can send mail over the Internet (email). We can also send greeting cards, or e-greetings, over the Internet. E-greeting is an electronic greeting card that you can send over the Internet to convey your wishes to a friend or relative. There are many sites on the Internet which provide the facility of sending free e-cards. Some of the popular e-greeting sites are as follows:
www.123greetings.com
www.americangreetings.com
www.archiesonline.com
www.bluemountain.com
www.hallmarkecards.com
www.care2.com
You can schedule an e-card to be sent immediately or upto 60 days in the future N also send one e-card to as many as 100 receivers at a time.
E-Commerce
E-commerce stands for electronic commerce, which means online commercial activities. The Internet offers us convenient ways to shop from our homes or offices for almost everything, such as clothes, books, gifts, electronic items, etc. We can buy or sell new or old goods also. This process of buying and selling products over the Internet is called online shopping. Some of the useful sites of e-shopping are:
www.snapdeal.com
www.ebay.in
www.amazon.com
www.myntra.com
www.homeshop18.c
Internet TV
Internet TV is a medium of delivering television content over an Internet connection.Internet TV is also known as web television. It's almost the same as getting television through an antenna or a series of cable wires – the difference is that information is sent over the Internet as data. At the same time, you can find even more variety on Internet TV than cable TV. Rather than having a fixed time schedule designed by the channels, consumers can actively search and retrieve programs of their choice, anytime. Along with many of the same shows you find on the big networks, many Websites offer independently produced programs targeted toward people with specific interests. Some of the popular independent service providers of Internet T.V. are Hotstar, SonyLIV, etc.
जरुर पढ़ें :-