Xiaomi Laser K100 Printers: First, for a laser printer, the Xiaomi K100 Laser Printer is relatively compact. With dimensions of 331 x 178 mm, it fits easily in any room in the house, leaning against a wall or hidden on a shelf.
The same naturally applies to office and work scenarios, taking up very little desk space.
In other words, the new Xiaomi device is a viable option for everyone who needs a fast and efficient printing solution. has been shown.
Xiaomi Laser K100 Printers Price in USA
A Chinese technology company led by Lei Jun has a new laser printer with an unobtrusive look, attractive features, and an affordable price that stays true to its ethos. The problem is that the Xiaomi K100 laser printer was advertised at 849 yuan, equivalent to $123, or 115 euros at the current exchange rate during the launch campaign.
New Xiaomi Printers Features
The first thing that will catch our attention as soon as we receive the package with the Xiaomi K100 will be its size. Nails in dimensions of only 331 x 178 millimeters of surface, you can place it in almost any corner of your home or office without hindering your workflow. But don't let the size fool you, because although compact, it has some very advanced features.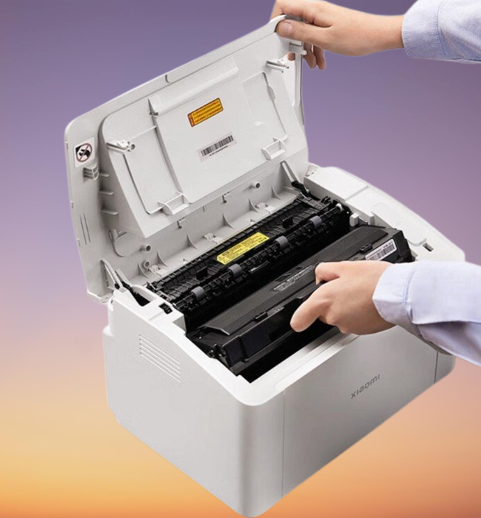 The second of the qualities to highlight of this Xiaomi device is its ink technology. It uses high-efficiency toner cartridges, so you can save a significant amount of ink and money with it. So much so that according to some data you will be able to print about 1,500 pages with a single charge, which is a blast. Not only that, but the toners offered by the company will cost about €37 (249 yuan), which is equivalent to €0.02/page.
>> What is an output device? Definition and types of output devices
Control wireless Easy and fast remote printing
Xiaomi K100 laser comes with smart features and better connectivity– including self-healing Wi-Fi and mobility with Smart App and Smart Advance.
In other words, you can scan documents using your smartphone camera. From your phone, you can even make adjustments to the page and content before placing your print order.
At the same time, you can scan multi-page documents and save them. PDF files for later reference on your smartphone, computer, or print.
>> Some important information about computers and its history